What's your favorite flower? Mine is the peony. I encountered my first one face to face in 
Monet's garden 
in Giverny. I was literally transfixed at the sight of a group in the garden as we entered the area. It seemed like I was seeing what a flower is meant to be for the first time in my life. Peonies have luscious opulent petals and heavy blooms. My taste had always been for more delicate flowers.  It has taken me years to understand what called to me about that particular flower as I've purchased them for myself time and time again only to be disappointed when they were spent so quickly. What I've come to realize is that it is just this characteristic of the flower that appeals to me most. It speaks to me of the way I need to approach life, a complete jumping in with full commitment and spreading of the essence free from timidity. Peonies begin with tight buds as most flowers do. It often seems that they will never reveal themselves with how tightly they are wound within their inner coil. When they do begin to open, they go full on, showing themselves in all their magnificence, holding back nothing and then they fade rather rapidly after that. It's such a sad thing to see a flower spent, but the memory of the bloom and the way it gave itself to the world for those few days is priceless. Such a lesson for us to understand that holding back who we are, being shy about expanding to full capacity in our lives will not gain us another single day on the planet. All it will do is leave a lesser version of ourselves than was possible.  One of my favorite movies is
Calendar Girls
. In this movie one of the characters says this:
The flowers of Yorkshire are like the women of Yorkshire.

Every stage of their growth has its own beauty,

but the last phase is always the most glorious.
Watching another of my favorite flowers this past week, I was able to witness a similar progression. This time it was a beautiful hibiscus that hadn't bloomed in years. We had several consecutive days of rain and it seems my little sleeper plant decided it was time to produce again. It gave me one glorious bud the first day, opened full bloom the second and then dropped its withered blossom to the ground on the 3rd day. That was it, 3 days from start to finish, but the glory of that bloom was an amazing thing to behold.
My take away from this experience is that we need to bloom full on with whatever we have to offer to the world. Blossom, shine, radiate your beauty so completely while you're here that people will be transfixed by your presence, just as I was in the gardens of Giverny. Don't worry about how long you will bloom or what color your blossoms will be. Don't compare yourself to the blossoms of others – you may be full, lush and heavy like a peony or you may have a few exquisite petals and a dynamic stamen that shoots forth from the center like a hibiscus. Whatever way is yours to open and share the treasure that comes from your bud; do it; don't wait. And don't worry about the last phase because as John from Calendar Girls has said: ". . . the last phase is always the most glorious."
The purpose of life, after all, is to live it,

to taste experience to the utmost,

to reach out eagerly and without fear

for newer and richer experience.
~Eleanor Roosevelt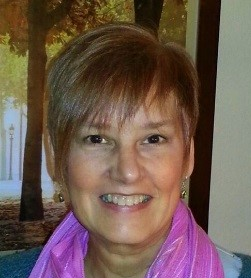 Connect with Sherry through her website at: empoweredjoy.com
Follow her Living Authentically Series on: Empowered Joy YouTube
This post appeared originally in August, 2017 on the Empowered Living Blog