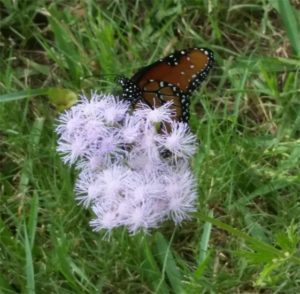 If a genie popped out of a bottle today to grant you just one wish, what would it be?
I might have to choose a trip to Mexico to see the Monarchs in their winter home. I'll never forget the moment in the film Flight of the Butterflies when Dr. Fred Urquhart experiences the affirmation of a lifetime of work and study as he stands in the presence of thousands of monarchs draped over their favorite trees high in the mountains of Mexico. It had taken 40 years of committed effort on his part and many volunteers across the continent to discover the sacred place.
It's interesting to me to think about the similarities in Dr. Urquhart's devotion and that of the monarchs themselves. If you're familiar with their life cycle, you know that monarchs travel a year-long migratory route to the northern U.S. for a few generations and then a Super Generation flies from Canada to Mexico to winter in the same location where their ancestors have. We know this now because of Dr. Urquhart's work.
The butterfly in the picture above is one that visited my garden last week. There was an ambitious breeze that day and the butterfly was hanging on for dear life. Its wings fluttered and it appeared as if it was glued to the flower; so determined was it to complete its goal of nourishing itself.
From time to time it was literally blown from the blossom and beat its wings against the airflow until it regained its bearings, circled and landed on the flower again. Repeatedly, it would approach the bloom only to be blown back, forced to repeat the process multiple times before hitting its mark.
It made me wonder about my own determination and focus when I have a goal or mission.  Unlike an insect driven exclusively by instinct, we as human beings have greater choices about how we'll spend our time and what we want to create for our lives. Our struggles are different, but we also sometimes feel, like the monarch in my yard, as if we're being blown around or even blown apart when life is other than smooth sailing.
We must be determined when seeking to get our needs met, striving to do our job or moving toward a goal.  It can seem like we're hopelessly beating our wings against a gale force. What can we do in these times? Here are my suggestions:
Remember and accept who you are.
Not who others have told you to be or who they've suggested you are. Go inside and connect to who YOU truly are. There is power there for you.
Honor the desire, goal, mission that you have chosen.
Self-will can feel like a burden when we have open ended choices, but it is truly a gift. We wouldn't want to live without it.
If your heart's desire has changed, take steps to move in the direction of your new desire in a way that will not damage you or others.
 Even a small step in the right direction opens energy for more movement forward and has a way of giving us courage to continue.
Be open & curious about ways that your goal can be met in ways different from what you yourself have imagined.
Having too narrow a focus blocks energy and makes us blind to opportunity.
Hold a space of possibility.
Another way of saying: "Don't give up." See the vision before you and, like the monarch in my yard, when you feel the wind gust, just circle and find an opening for re-entry.
 It occurred to me as I sat on my patio watching the monarch in my butterfly garden that to someone who didn't know otherwise, this scene could look like a choreographed dance. The sway of the long stemmed blossom, the fluttering of the lovely wings as the insect circled again and again until it was able to gently return to the flower.
I wonder if maybe it would be possible for us to see the challenges we face as a dance and flow with the rhythm as we move forward to land on our mark. What might be possible with this mindset?
Blessings & Joy,
Sherry
This article originally appeared on: empoweredjoy.com
Reprinted with permission by the author: Sherry Coffman
"It's not about the struggles you're faced with in life,
but whether you choose to move forward with your wings spread wide, ready to fly again."